Sunday, March 27, 2011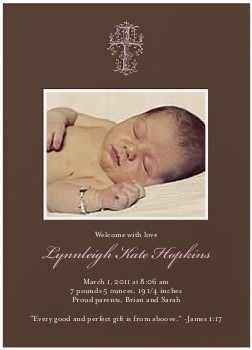 Blessed Cross Rose Birth Announcement
Posted by

Brian
at 9:25 PM
9 comments:

Wednesday, January 12, 2011
At each checkup there are a series of checks: they check Sarah's weight, listen to the baby's heartbeat, and then measure the baby. It seems to me that this latter test is not very precise; they just hold a tape measure against Sarah's belly and go "eh, it's about 34".
Nevertheless, the last two times we wnt in (December and early January) Sarah measured just above the high end of normal. This last time, the doc was worried enough about this that he had his tech do a brief ultrasound and check everything out.
There are two big results here. First: everything is in order. And second: the baby has hair. See the fuzzy region around the perimeter of her head:
This is big news around my family. Ainsleigh was born bald-headed, as was my niece, my brother and myself. This is the first baby with hair in our family in some time.
Posted by

Brian
at 9:06 PM
3 comments:

Monday, November 8, 2010
This is a purely speculative exercise, of course; Lynnleigh's's face is still thin, and doesn't have much the muscle or fat that will give it shape yet. But even wild speculation is fun. Here she is, side by side with her sister:
Posted by

Brian
at 7:24 PM
1 comment:

Baby's name is Lynnleigh Kate.
Posted by

Brian
at 7:07 PM
No comments: